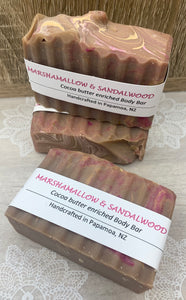 Marshmallow & Sandalwood is one of my very favs
Heavenly sweet marshmallow and rosewater, powdered sugar on a heart of vanilla, musk and a hint of sandalwood. A soft feminine scent.
Top notes: Marshmallow, Rosewater
Mid notes: Sugar Syrup, Powdery, Geranium, Lily of the Valley, Clove Bud
Base notes: Soft Vanilla, Patchouli, Sandalwood, Musk
Weight approx and usually a minimum of 105 grams -/+
Our soaps are all handmade and each one is unique. So, appearance and weight may vary slightly and colour.
  Ingredients: Olive Oil, Coconut Oil, Shea Butter, Water, Sweet Almond oil, Castor oil, Fragrance oil, Sodium Lactate, Mica.
To Use: Keep your soaps dry, use a draining soap dish or bag in a ventilated area when not in use. This will help your soaps last longer.
Handmade in Papamoa, Tauranga. We try and use recyclable wrapping and minimal plastic use.
Our soaps are cruelty free & vegan friendly.