Handcrafted in Papamoa, Bay of Plenty with love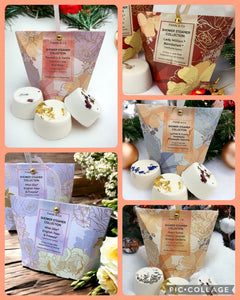 Our Shower Steamer Gift Collections are fabulous gifts.
We currently have 6 x Gift Collections available:
💗 'Raspberry'
🍑 'Peachy'
🌸 'Spring'
💛 'Lady' Perfume
❤️ 'Miss' Perfume
💜 'No.5' Perfume

🚿 Shower steamers fill the room with aromatic fragrances sending you into a state of relaxation and self-care.
Add a touch of luxury to every shower. Indulge your senses with our wonderful fragrances created specially to elevate your shower experience to a whole new level.
Place Shower Steamer on the shower floor where it will be sprayed by a little water but not directly under running water to avoid dissolving too fast.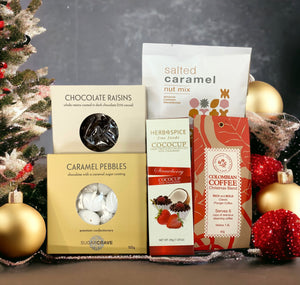 Gifts for all occasions & budgets.
Celebrate any meaningful occasion ~ Christmas, birthday, thank you, thinking of you, or other special occasion with a beautifully curated gift box filled with any of our handmade gifts. 

We have Build Your Own Gift option so you can select the empty gift box, have fun choosing items to pop in it and we will carefully arrange and take care of the rest.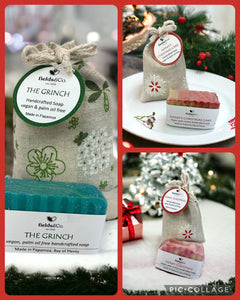 Santas Sacks!
Santas Sack! Just what everyone needs for Christmas
Our limited edition Christmas Soaps come in a ready to gift cotton bag.
Give a gift that will last weeks, our cold process handcrafted body bars/soaps are the perfect. 

The Grinch ~ a refreshing essence of juicy citrus with fresh basil combines to deliver a revitalising aroma
Merry Christmas ~ a classic floral scent of pink peony combine with wild rose, African violets and Carolina jasmine
Nanas Christmas Cake ~ Fresh baking, Drunken fruit, mixed spices, glaze cherries, covered in almond icing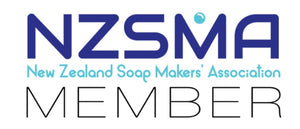 We are a member of the New Zealand Soap Makers Association
I just wanted to tell you I received my parcel yesterday and I am absolutely blown away, from the presentation the beautiful lavender, the beautiful products the soaps are amazing everything was beautiful and perfect. So much perfection I am ordering some more today so thank you

Lizzie
Well, I can never go back to mass produced store bought soap after using the divine soaps handmade by this lovely lady. I just put another order in for more. The hardest part is deciding which ones to pick.

Sharon
I love soap bars vs using bottled stuff and I have been struggling to find a soap bar that lathers + makes me feel clean. I have very bad anxiety so feeling clean is very important to me. I think I've been using them about a month now and my skin has been amazing.

I recently used the exfoliating bar tonight and it's an actual bar that does the job it does! It picked up all the dead skin on my body & my face (not sure your supposed to use it there) is soft as!! I have a condition with my anxiety where I pick at skin so to find a bar that actually removes the dead skin is 😍

Your bars are protection 👌🏼 I've used a range of scents - ones I would lean more towards (fruits & flowers) and ones I wouldn't (sweet scents & neutral scents) and I have loved every one. My skin smells amazing afterwards and I actually feel clean!

Jess
Just want to let you know that I received my order and I am absolutely thrilled with the lovely products and beautiful presentation.

Thanks so much, Faith

Faith
Such fast service, amazing products, highly recommend. Thank you

Samantha Paterson
Thank you for the gift box, it was wrapped so beautifully that my Mum didn't want to ruin it by opening it. The soaps look and smell wonderful.

Sheryle
I was delighted to eat home yesterday and find your package there waiting for m. What excellent service. I just want to say I am absolutely thrilled with my purchase. Everything smells and looks amazing. Thank you so so much. I will definitely be ordering again.

Tracey G
I got the lovely soaps today and just wante to say thank you so much. What a treat to gift these soaps for Christmas!. I look forward to buying more soaps in the future, thank you so much.

Jessica Paterson
Beautifully packaged with love and care. The soaps are so rich and creamy. Such a treat to recieve them. Will be buying more. Thank you for your beautiful product 💜

Lynne