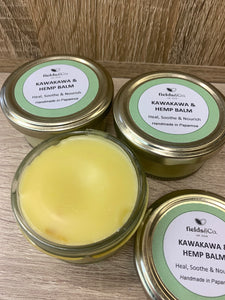 Hemp Seed Oil has anti-inflammatory properties plus omega-6 and omega-3 fatty acids to bring the skin into perfect balance, taking down inflammation, redness and soreness – making this balm fantastic for helping skin conditions such as psoriasis, eczema, dermatitis and extremely dry skin.
This jar contains our two most powerful healing plants in one organic and 100% natural balm. 
Organic Hemp Seed & Kawakawa Oil is a blend of plant-based oils which has anti-microbial with exceptional healing properties that may relieve a variety of skin conditions like eczema, dermatitis, minor cuts and grazes, pimples, dry lips, nappy rash, cradle cap as well as an excellent moisturiser.
Suitable for all skin types
Cruelty free & Fragrance free
Key Ingredients: Kawakawa Oil, Calendula infused organic Hemp Seed Oil,  Sunflower oil, NZ Bees Wax, Shea butter, Vitamin E Oil.
Balm contains organically grown Calendula petals
Use 2-3 times a day as required
Handmade with love and care in Papamoa, New Zealand
70ml glass pot.
Good oil info:
1. It hydrates. 
Like the skin's own natural oil, or sebum, sunflower oil is an emollient, meaning it adds hydration and smooths. That makes it a perfect moisturizer as it helps skin to retain water.
2. It's rich in antioxidants.
Sunflower oil is rich in vitamin E, a protective antioxidant. It also contains vitamin A, vitamin C, vitamin K and vitamin D, which help to protect from environmental stressors that can cause premature aging.
3. It helps to unclog pores.
This smooth, nourishing oil is non-comedogenic, meaning it won't clog pores. Sunflower oil can actually help to decongest pores by clearing them of dead skin cells and creating a refreshed, revitalized appearance.
4. It can minimize signs of aging.
With protective antioxidants and its ability to retain moisture, sunflower oil can help minimize the look of fine lines and wrinkles. It can also help protect your skin against further damage.
5. It's soothing.
6. It can help calm temporary redness.
7. It protects skin.
Sunflower oil provides a protective barrier against environmental stressors, helping your skin stay clean and free from dirt and toxins.