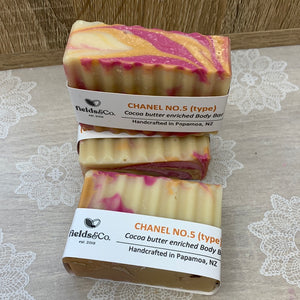 🧡No.5 perfume type
This is a duplication of the famous and perfume
No.5, developed by famous Coco C in 1921, still remains one of the best selling perfumes of all times. This highly complex fragrance contains 130 different ingredients. This fragrance begins with top notes of fresh floral ylang ylang, rose petals, and French jasmine. Lovely base notes of vetiver and sandalwood, provides a woodsy bottom.
Weight approx and usually a minimum of 100-120grams -/+
Please note – This is a fragrance duplication. We do not represent our products to be original nor do we represent that they are exact copies; Any references to brand names are made strictly for comparison. The web site has no affiliation to, and is not associated or sponsored by any of these trademark owners.
Our soaps are all handmade and each one is unique. So, appearance and weight may vary slightly and colour.
Ingredients: Olive Oil, Coconut Oil, Shea Butter, Water, Sweet Almond oil, Castor oil, Fragrance oil, Sodium Lactate, Mica.
To Use: Keep your soaps dry, use a draining soap dish or bag in a ventilated area when not in use. This will help your soaps last longer.
Handmade in Papamoa, Tauranga. We try and use recyclable wrapping and plastic free.
Our soaps are free from Palm Oil are cruelty free & vegan.