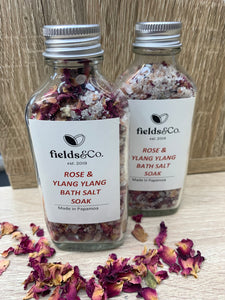 Our Bath Salts are full of earths natural  ingredients, such as Epsom Salt and Himalayan Salt that can help detoxify the body naturally and heighten relaxation, all while softening, cleansing, and moisturizing dry skin.
Our bath salt tubes are perfect for those looking to unwind after a long day, great for foot spas and make the ideal gift.
Directions: Dissolve into a warm running bath. Now rest, recharge,  + enjoy.
100 grams net weight bottles

80 grams in tubes
THE GOODS
Natural Epsom salt is full of magnesium that our bodies need to help our minds be calm and our bodies relax, and to support healthy sleep. 
Dead Sea salt is rich with essential minerals like magnesium, calcium, sulfur, bromide, sodium, potassium and iodine, which can be beneficial to the body and in particular to the skin, hair and nails.
Himalayan pink salt contains minerals and nutrients that nourish and replenish us.
Sodium bicarbonate softens and deodorises skin and can reduce lactic acid.
Rose & Calendula petals, Lavender buds,
Ingredients: Dried Rose & Calendula petals, Lavender, Pink Himalayan Salt, Magnesium Epsom Salt, Dead Sea Salt, Baking soda.

Discontinue use if irritation occurs.  
NATURAL, VEGAN, CRUELTY FREE.