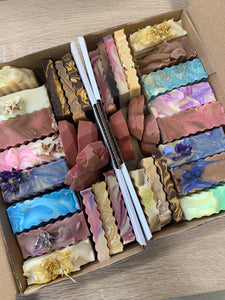 No other offers/freebies/discounts apply - these are a bargain
The boxes this year are over 1.3kgs  of soap/body bars, unlabelled & pot luck.
(Picture is of 2 x boxes)
Bonus Body Bar Box Bundles' are available usually only available a couple of times a year so they sell out quick.
We do recommend grabbing a soap saver bag for the slices as they will last longer & a soap rack/dish if you dont already have one. 
Pictures are a representation of what might be in your box and vary from box to box.
They are made up of full size bars/seconds/end slices/end of lines and undersized bars.
There is nothing wrong with these other than the above.
They are made like all our other bars using the premium butters & oils.
Ingredients: Olive Oil, Coconut Oil, Shea Butter, Water, Sweet Almond oil, Castor oil, Fragrance oil, Sodium Lactate, Mica.
To Use: Keep your soaps dry, use a draining soap dish or bag in a ventilated area when not in use. This will help your soaps last longer.