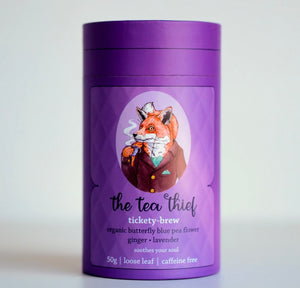 Calm your senses and support mental clarity with this stunning brain-booster.
Anti-Ageing
Antioxidant
Supports Healthy Cholesterol management 
Good for Brain Health
Calming
Sleep Support
Contains Quercetin 
With anthocyanin - antioxidant flavonoids that fight free radicals - Tickety Brew isn't just for your state of mind. Rejuvenating, supporting healthy cholesterol management this caffeine-free blend is designed to bring clarity as it lifts your mood. Its awe-inspiring colour changing effects bring a touch of magic to this blend. 
A hint of lavender for serenity, this tea is perfect to finish your day as it soothes your soul, supporting sleep.  
Taste: Earthy with subtle lavender and ginger flavours.
All Natural Ingredients: Organic Butterfly Blue Pea Flower, Ginger and Lavender
Origin: Wild blue pea flower : Thailand | Certified Organic Ginger & Lavender: Henan, China 
50g Loose Tea | Caffeine Free 
10g Mini Pack | Perfect for tasting or as a gift 
Shake me up before you use to get an even amount of lavender and ginger 
BREW | SERVE
80°C  | 1 tsp per 250mls
Infuse 8-12 minutes | Enjoy 1 -2 refills
Make ice cubes out of the tea and add to a Gin & Tonic with a twist of lime for a Magical colour changing cocktail. 
Combine with our Brew.ti.ful (hibiscus flower tea) for a deep red drink. 


Consult your physician before use if you are pregnant, lactating, have a medical condition or are taking any medication.